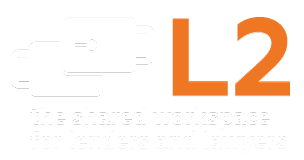 Tired of locating documents in the right drive for posting on the system? Try L2's new Drag&Drop feature, allowing users to instantly post multiple documents and attachments to the logged notes screen without the bother of first locating them on your machine. Just click on your intended item(s) for attachment, drag them to the new "Drag and Drop Files Here" box in the L2 logged notes screen and Voila! Your document is ready for naming, categorizing and attachment. It's just that simple.
Ever wish you were rich, famous and physically attractive to everyone? Or be able to post a critical L2 note and have it not move from the top of the page? Well we've found a way to make one of those wishes happen. All you do, after posting your L2 note, is click "Pin Log" and, Voila! Your note will appear both in the sequential chronology as usual and a 2nd copy of your note will remain at the top of the logged notes page until you elect to "unpin" it. Up to five pinned notes are permitted per file.
To reset your password click on Forgot Password button. Then, type out your email address and click submit. Now check your email for a password reset link. Take a look at junk & spam folders too. Click on the link from your email.
Type out new password, confirm it again by retyping it and click submit. Your password is reset successfully!
Your law firm will send you an invitation to sign up for L2 Canada. Once you get an invitation your account is created on L2 Canada, enable 2-factor authentication and you are good to go with the system.
Please let us know by email if you have any questions or concerns.
We can always be reached by email at support@l2canada.com or by phone atToll Free Phone: 1-877-443-9321
If you did not receive an invitation, you may already be in the system. The invitation is for addition of new user in the system. Please go to l2canada.com. On the log in screen, locate the button called Forgot Password. Click on it and type out your email address: EG: gcostanza@sienfeld.com You will receive a password reset link in the email. Check junk mail, spam folders too. Once you reset your password login to the system using your email and password. The system will ask to enable two-factor authentication. Enter your mobile number and click submit. You will receive a verification code on your phone and you will be logged into the system. You can also set up personal verification questions and answer each when requested by the system. Contact us at support@l2canada.com if you have problems.
Page generated in 0.0 seconds
Copyright © 2022 LRM Technology Group. All rights reserved.